BERKSHIRE GLOBAL EDUCATION:
Every year, students from all over the world come to Berkshire Global Education (BGE), attracted by our academic reputation and the unparalleled student experience. At BGE, we believe that education is about your journey and experiences that will supplement personal development and academic achievement. That is why we incorporate these fundamentals into our learning, teaching and training delivery.
BERKSHIRE GLOBAL TOURS:
Berkshire Global Tours (BGT) is one of the subsidiaries of Berkshire Global Education Group which specialises in offering dedicated educational tours including sports tours, ski trips, football tours, rugby tours, sports festivals, tournaments, bespoke training camps, music and educational trips for schools, colleges, universities and club groups of all ages and abilities.
All of us here at BG Travel Team, work tirelessly to ensure that your trip is a carefree, successful and enjoyable experience from start to finish. That means attention to your travel plans, accommodation, specialist inclusions and leisure time as well as to health and safety, financial protection and travel insurance. With guidance in pre-tour preparation, risk assessment and planning as well as on tour assistance, you will be benefitting from a wealth of collective knowledge and experience.

With a large number of "Local Representatives" around the Globe, we welcome groups from overseas into the UK, USA, Canada, Turkey and Europe.

BERKSHIRE GLOBAL – ROME EDUCATIONAL TOUR:
Rome is a wonderful destination for your school trip and has something to offer every student and subject. It could be a school trip focussing on history, art, geography, and of course a modern language trip.
Rome is one of the most ancient cities in Europe; ancient Rome has lived through 2,700 years. According to legend, Rome was founded in 753 BC by twin sons Romulus and Remus who were raised by a she-wolf. Since then it has been continuously inhabited, and, as headquarters first of the Roman empire and then of the Roman Catholic Church, it has had a gigantic impact on the world.
During its twelve-century history, the Roman civilization shifted from a monarchy to an oligarchic republic, to an immense empire. Julius Caesar ruled for a time as dictator, and his nephew Octavian became Rome's first emperor, assuming the title Augustus. During the reign of Augustus, Christ was born, and though Christians were persecuted until the 4th century, the new religion took hold and Rome became the main centre of Christianity.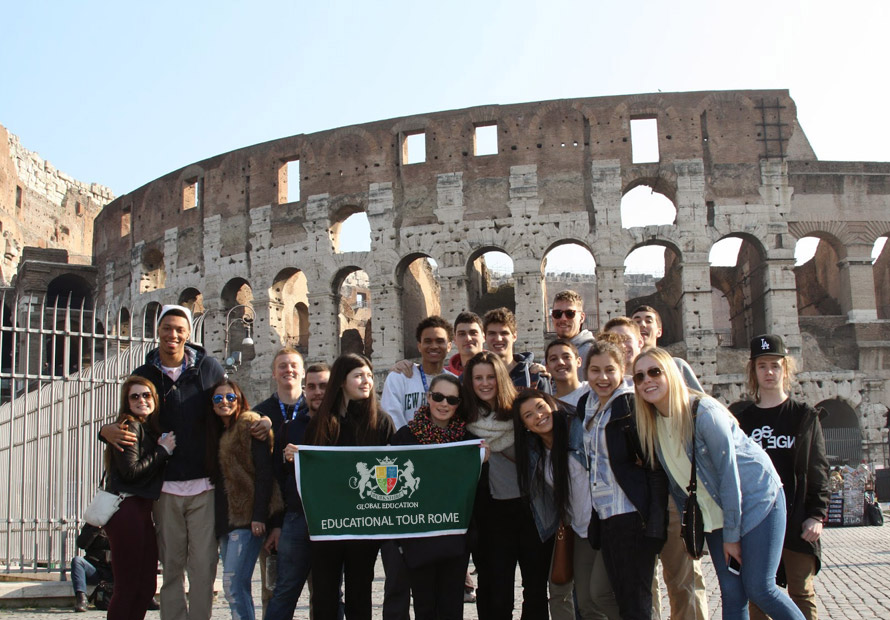 The Capitol, the southern summit of the Capitoline Hill, was the symbolic centre of the Roman world and home to the city's three most important temples. Below the Capitol lies the Roman Forum, once the focus of political, social, legal and commercial life; it has been called the most celebrated meeting place in the world. Today, the Forum is open as a tourist destination along with the Palatine Hill and Colosseum. The excavations are open to the imperial street level, and guided tours are given in multiple languages. The Forum Museum (Antiquarium Forense) is found at the Colosseum end of a modern road, the Via dei Fori Imperiali. It has a significant collection of scuptural and architectural fragments. There are also reconstructions of the Forum and the nearby Imperial Fora as well as a short video in several languages. Overlooking the Forum is the Palantine Hill where Romulus is said to have founded Rome in the 8th Century BC, and where emperors lived for over 400 years.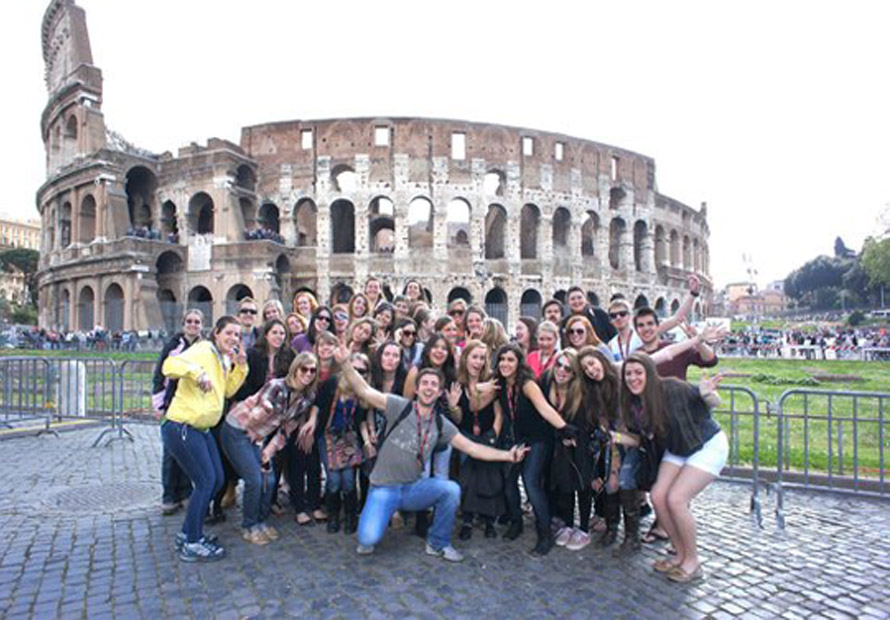 The Colosseum
The Colosseum is estimated to hold between 50,000 and 80,000 spectators, having an average audience of some 65,000. It was used for gladiatorial contests and public spectacles:re-enactments of famous battles, animal hunts, mock sea battles and dramas as well as executions. After the mediaeval era it changed use, becoming housing, workshops, a fortress, a quarry and a Christian shrine.
Today it is still an iconic symbol of Imperial Rome and is one of the most popular tourist attractions. Still linked to the Catholic Church the Pope leads a torchlit procession on Good Friday starting in the area around the Colisseum.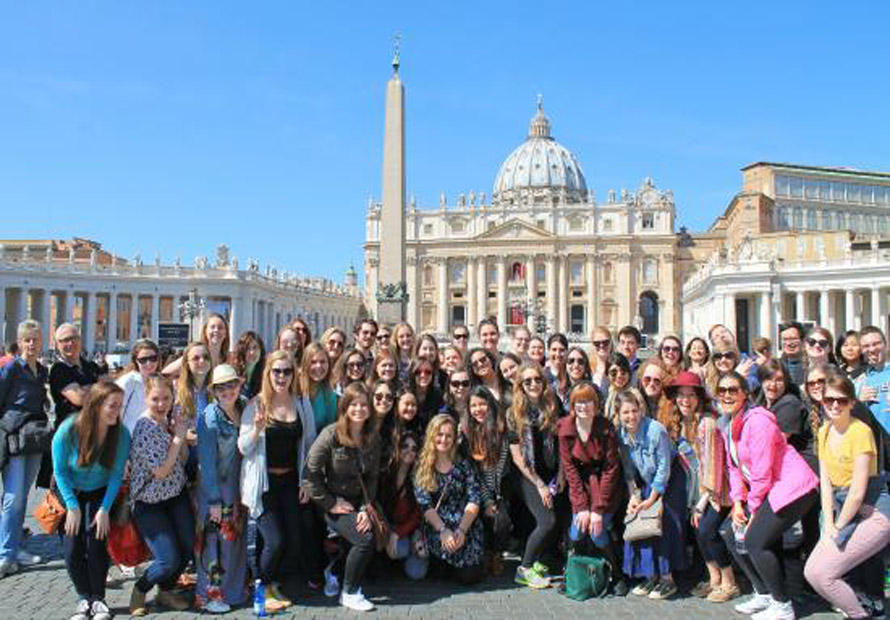 SHOULD YOU RELY ON BERKSHIRE GLOBAL TOURS?
• The safety of our young travellers is our number one priority.
• Our commitment to our duty of care towards our travellers gives parents and schools reassurance..
• Our record of providing excellent service to schools and youth travellers is flawless.
• We only operate tours in accordance with strict operational standards that have built our reputation as leaders in the student travel industry.
• Every tour is underpinned by an industry leading risk assessment plan that exceeds the standard benchmark.
• Our Price and Value Guarantee.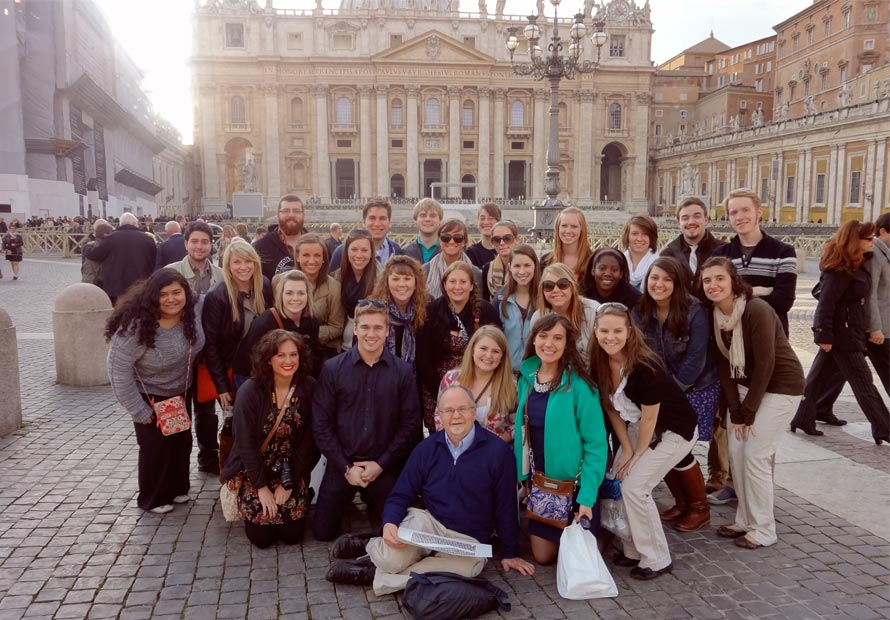 EXCURSIONS AND DAY TRIPS:
1) FULL DAY TRIP TO THE COLOSSEUM:
Spend a day in one of the Seven Wonders of the World. The Colosseum is considered the world's most famous amphitheatre and was the scene of many gory and gruesome gladiator fights over two millennia ago.It could hold between 50,000 and 80,000 spectators, having an average audience of some 65,000.
As the centre of entertainment for the ancient Romans it has seen many epic contests and its walls could tell a thousand tales. Explore this ancient ruin and walk through the tunnels around this impressive site, learning of the ancient Roman Empire, its hierarchy system and the Rome they left in its legacy.
The Colosseum took 12 years to build. It is estimated that over 500,000 people were killed in Colosseum during the Roman reign.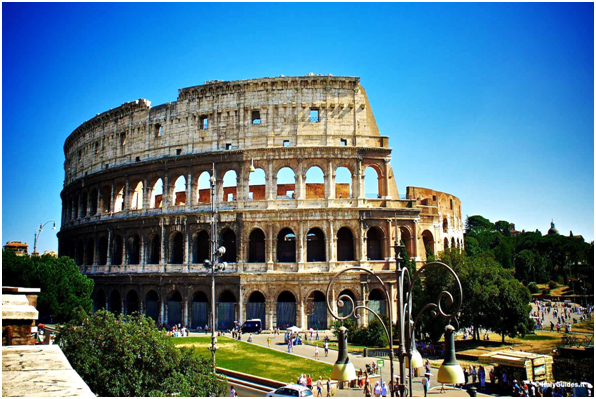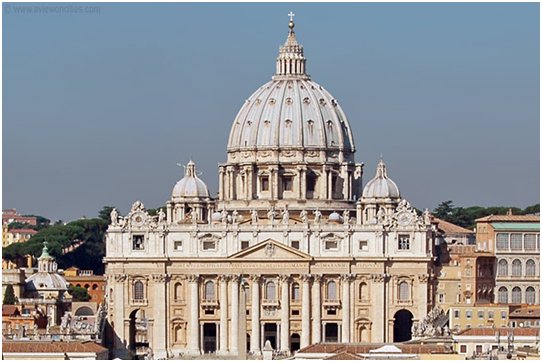 2) FULL DAY TRIP TO ST PETER'S BASILICA
St. Peter's is the most renowned work of Renaissance architecture and the largest church in the world. St. Peter's is regarded as one of the holiest Catholic shrines. It has been described as "holding a unique position in the Christian world" and as "the greatest of all churches of Christendom".
Catholic tradition holds that the Basilica is the burial site of Saint Peter, one of Jesus' Apostles and also the first Pope. Saint Peter's tomb is supposedly directly below the high altar of the Basilica. For this reason, many Popes have been interred at St. Peter's since the Early Christian period, and there has been a church on this site since the time of the Roman emperor Constantine the Great. Construction of the present basilica, which replaced Old St. Peter's Basilica from the 4th century CE, began on 18 April 1506 and was completed on 18 November 1626.
a) The Trevi Fountain
The Trevi Fountain is a fantastic work of art that is much more than a mere sculpture. This triumphant example of Baroque art with its soft, natural lines and fantasy creatures embodies movement as the soul of the world. The fountain is a true wonder, a jewel of water and stone that is nestled between the palaces of the historic centre of the city. You can already hear its presence from the nearby streets. Indeed, as you get nearer the sound of its gushing waters grows constantly more intense, reaching a crescendo in the square, where you will find the most breath-taking sight.
Suddenly, the space seems to open out and you stand before a symbolic representation of this great force of nature, a tumultuous spring that seems to flow out of the ground. The light and shade effects on the marble make the wind seem to bellow through the drapes and locks of the statues, agitating the waves, creating an extraordinarily intense and spectacular scene. In this Baroque creation, the architecture itself seems to come alive with the current of the revitalising waters.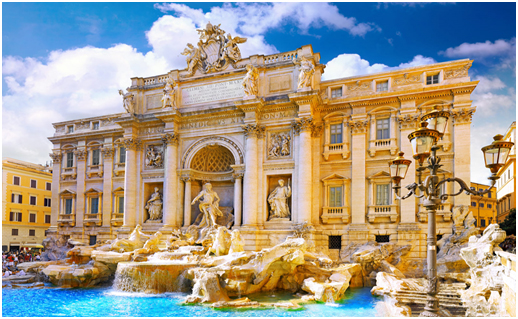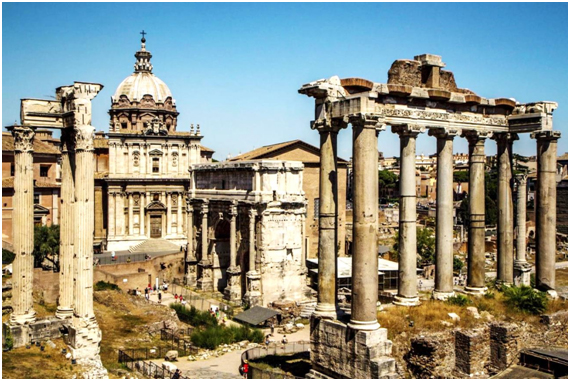 3) FULL DAY TRIP TO THE ROMAN FORUM
The Roman Forum is a collection of ruins and historic buildings which used to be a bustling market place. Here you can explore the iconic pillars and churches nestled in the old cobbled streets. See the House of Augustus, home to Caesar Augustus during his reign – the grandnephew and heir to Julius Caesar. This contains a wide collection of frescoes and has been recently restored to give visitors an insight into Ancient Rome and its rulers. The Temple of Romulus is truly a sight to behold. A stunning feat of architecture, the rotunda is decorated with two large bronze doors (dating to 300AD) and the apse was designed with a Roman-Byzantine mosaic – you can still see the original marble paving at the new entrance. The arch of Emperor Severus Septimus was built in 203AD to commemorate his victories. Measuring 23m high and 25m wide, it's one of the most preserved and intact monuments in the Roman Forum so it's a great landmark to get a true sense of ancient Roman design and architecture through its intricate carvings.
4) FULL DAY TRIP TO THE VATICAN MUSEUMS and THE SISTINE CHAPEL
The Vatican Museum is Rome's most notable museum not only for its Papal history and significance, but also due to the breadth of art within its walls. With more than 9 miles of art and sculptures on display, not to mention tapestry and other artefacts, you can explore the ages from ancient Egypt to the 20th century.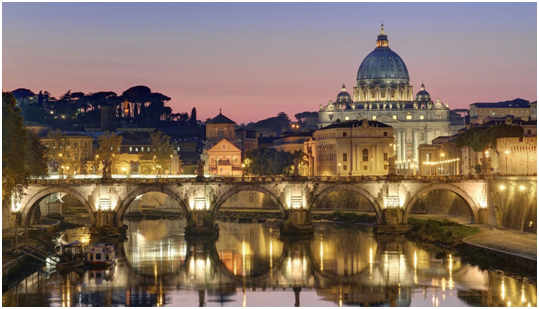 a. The Sistine Chapel
The Sistine Chapel is a stunning chapel – and arguably the most famous element of the Vatican Museums. Originally constructed in the late 15th century, it was famous for its frescoes and elaborate decoration by some of the greatest artists including Michelangelo, who painted "The Last Judgement" on the ceiling during the 16th century; as well as Botticelli, whose murals run along the length of the walls.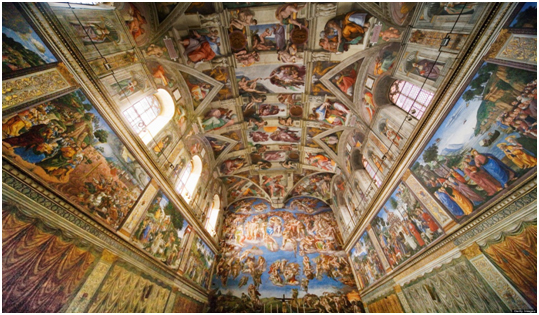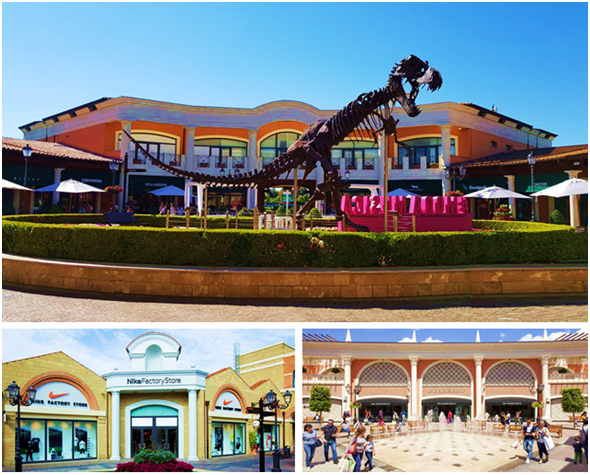 5) FULL DAY SHOPPING TRIP TO CASTEL ROMANO DESIGNER OUTLET:
Over 200 famous brands at 30%-70% less all year round. Pick up some fabulous fashion from your favourite top end designers at affordable prices. With plenty of places to eat and drink this makes for a wonderful day out!
ACCOMMODATION
We use a selection of typical 4 star hotels in the centre or on the outskirts of the city with easy access into the historic tourist centres. We never use any of the local Youth Hostels or budget hotel accommodation.
What They Say:

"As opposed to simply being sold a tour package, we felt the service BERKSHIRE GLOBAL TOURS offered went above and beyond our expectations"
Mohamad Ilysas, Tangier, Morocco

Our educational and cultural trips are available for numerous subjects including different Languages, History, Art & Design, Performing Arts and Cookery.

With easy access, comfortable accommodation, full time supervision and fantastic educational visits and sights, our cultural school holidays represent outstanding value for money.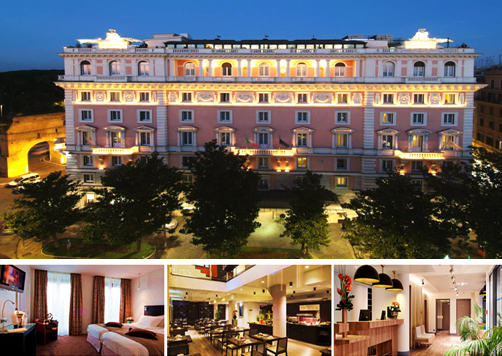 COURSE FEE INCLUDES:
A Prestigious Awards Ceremony: At the end of each course we hold our prestigious 'Awards Ceremony' at which students are presented with their certificates.
Accommodation: Full Board 4 Star (Including Breakfast, Lunch & Dinner)
Awards and Prizes: Students who have been exceptional in all aspects of the course get prizes and awards such as Star Award, Student of the Course Award etc.
Full Day Trips: Princes Islands Tour, Green Bursa Tour, Asian & Maiden, Tower Tour, Istanbul Heritage Tour, Miniaturk Tour Istanbul.
Travel: Airport Transfers + All Local Travel
Travel Insurance: Student Travel Insurance
Mobile phone SIM card: mobile phone SIM card
BERKSHIRE GLOBAL EDUCATION TURKEY EDUCATIONAL TOURS

Course Dates:
Dates available throughout the year
Course Fee:

£1550 (excluding air ticket)
AVAILABILITY

Limited Spaces available
Entry Requirement:
There are no formal qualifications required for these courses. They are designed for aspiring young students. If you are ready to apply now, the quickest and easiest way to reserve your place is online.
Welfare, Supervision and Safeguarding at BGE
At Berkshire Global Education, we believe in providing a high level of care and support for our students, to ensure your stay is positive and successful. We have a highly qualified and experienced team of staff and teachers to look after you. There is a minimum ratio of one adult Group Leader for 10 students. Group Leaders at all campuses are accommodated in the same building as the students.
Click here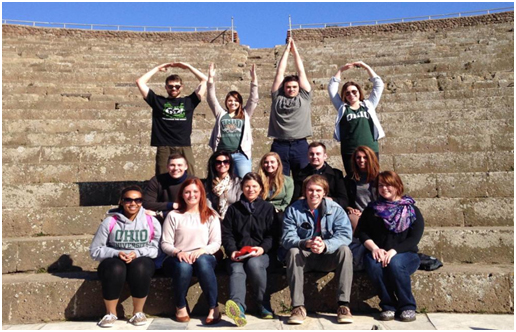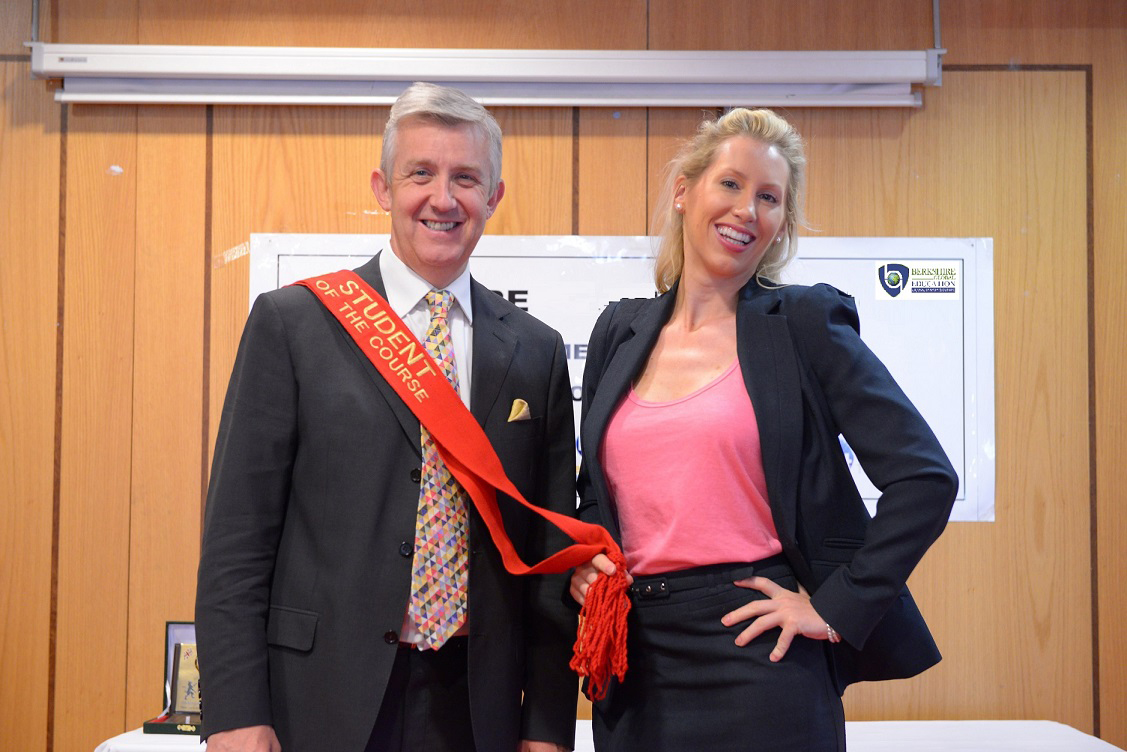 Our Promise to You:
"Nobody comes back from a journey the way they started it."
• Powerful team building experiences
• Refinement of character and moral qualities
• Meet new people and make new Global friends
• A huge morale boost
• An understanding of different cultures
• Unlock untapped strengths and personal qualities
• Visit the main tourists sites
• Have great fun in a healthy way
• Return home refreshed and energized
• Lots of photos – including many selfies!
---